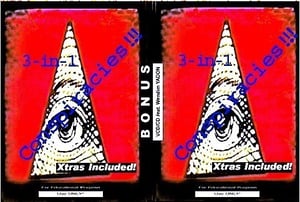 $

19.95 - On Sale
Want to know their "Secret"? Conspiracies 3-in-1 DVD features three (3) seldom seen and rarely heard of documentaries that exposes the real "invisible hands" behind the scenes of World Events since and before 9/11. BONUS VCD/CD included featuring Commentary & Analysis by Wendim YADON of the LOJ Society of His Imperial Majesty (SHIM). In this 3-in-1 MegaDVD are the following Conspiracies EXPOSED:
The Capitalist Conspiracy (47 min)
U.S. Government Criminals and Corruption in History. British Imperialism.
The Great Conspiracy (70 min)
The 9/11 News Special You Never Saw
Conspiracy Of Silence (55 min)
Conspiracy of Silence, a documentary listed for viewing in TV Guide Magazine was to be aired on the Discovery Channel, on May 3, 1994. This documentary exposed a network of religious leaders and Washington politicians who flew children to Washington D.C. for sex orgies.
Many children suffered the indignity of wearing nothing but their underwear and a number displayed on a piece of cardboard hanging from their necks when being auctioned off to foreigners in Las Vegas, Nevada and Toronto, Canada.
At the last minute before airing, unknown congressmen threatened the TV Cable industry with restrictive legislation if this documentary was aired. Almost immediately, the rights to the documentary were purchased by unknown persons who had ordered all copies destroyed.
A copy of this videotape was furnished anonymously to former Nebraska state senator and attorney John De Camp who made it available to retired FBI Agent Ted L. Gunderson. While the video quality is not top grade, this tape is a blockbuster in what is revealed by the participants involved.
www.lojsociety.org/docvideos